Dominique Dorla, whose artist name is Dorla, is a creole visual artist located in Reunion Island.
Practicing painting and sculpture, her works have been exhibited on her island but also in mainland France, Mauritius, China and the United Arab Emirates. Impregnated by the cultural traditions and folklore of her island as well as by her discoveries in neighboring countries, she created her central pattern, her trademark: the flowery faces "yayas" which are a kind of "masquerade of recurring shapes" linked to her multiple origins and which she uses on most of her creations.
Her favorite medium is oil on canvas or paper, sometimes wood. With multicolored palettes of dazzling colors, she revisits the history of Art in her own way, thus leading to unexpected and inspiring compositions by their anachronisms and improbable propositions she plays with.
She herself defines her practice as "the exploration of a protean imaginary built since my childhood of lived experiences and intertwined myths of different cultures. A possibility of tales on different aspects and topics on the contemporary society by the meeting or the heterogeneous and often anachronistic fusion of allegories, metaphors and stories including the history of Art ".
Her ability to approach registers as wide as different, ranging from classicism to pop or street art, does not help to classify her in a well-defined artistic line but does not leave any doubt about the artist's signature.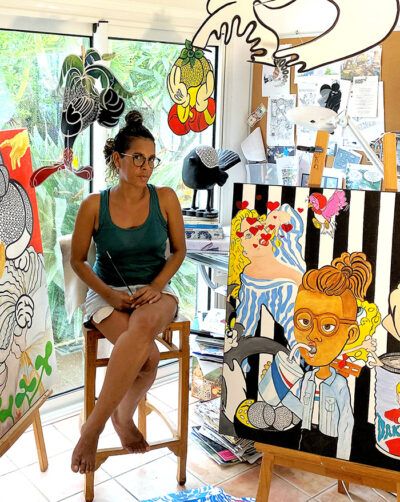 « Painting is simply a necessity, a way of writing, a relationship to a constantly changing world. What is painting? A look at the world? A new perception of reality? We are neither chained nor motionless in front of our own shadows and those of objects. We can converse with things and this is what painting offers. Everything can be a pretext to paint and beyond the subject, beyond objects far behind us, painting is a place of reflection or daydreaming. Countless realities are offered to us in the thickness of the world.
Henri Matisse said  "All you need is a sign to evoke a face, there is no need to impose on people eyes, a mouth … You just have to leave the field open to the spectator's daydreaming".
According to Dorla "There is obviously something to catch beyond the figurative without categorically committing to abstraction."
Childhood and artistic beginnings
Dominique Dorla was born in St Paul on Reunion Island in 1973.
She spent her childhood in the Chaudron district of Saint Denis and, very young, she felt attracted to drawing, painting and collecting various objects she found all along her walks. These moments allowed her to create an inner world where she finds serenity, escape and independenc .
She has been a teacher in history and geography for eight years without ever ceasing her artistic activities and she finally converted to her passion. She enrolled in 2008 at the École Supérieure d'Art du Port Réunion and is currently a teacher in visual Arts. Sharing with her pupils is for her a great source of inspiration and experimentation and allows her to pursue her career as an independent artist while devoting herself enthusiastically to the teaching of this subject that fascinates her.
2021-2022
Project to create a gallery downtown in Saint Pierre 
2020
Application Arte Laguna Prize Venice Italy (event cancelled)
Application for the 65th Salon de Montrouge Montrouge France (event cancelled)
Akoun rated: https://www.akoun.com/SEARCH?ART=dorla&CAT=1 
Auction, Hôtel DROUOT, Paris, ArtPrice rated: https://fr.artprice.com/artiste/815685/dominique-dorla
"Art Connects Women", DUBAI. Ambassador of Reunion among 100 international women artists participating in a collective exhibition at the Royal Mirage Hotel.
2019
#SOSE – SAVE THE OCEAN, SAVE OUR CHILDREN, collaborative, charitable and artistic project 2019 – 2020 Epson, MoLA and SEAQUAL.
Mauritian International Art Fair ( M.I.A.F ), CAUDAN Art Center, Port Louis, Île Maurice.
Group exhibition "Emancipations" Jean Le Toullec College, Le Port, Reunion Island.
Group exhibition for Saga du Rhum Museum birthday commemoration – Saint-Pierre, Reunion Island.
2018
Auction, Hôtel DROUOT, Paris, organized by the MOLA Museum. ArtPrice rated: https://fr.artprice.com/artiste/815685/dominique-dorla
La Saga du Rhum exhibition – Saint-Pierre, Reunion Island.
Exhibition "Po kession Yaya" Hotel des Postes – Saint Leu, Reunion Island
2017
Exhibition Yaya « Vers us & Cie » La Saga du Rhum – Saint-Pierre, Reunion Island
2016
Exhibition « Yaya » Jean Le Toullec Highschool – Le Port, Reunion Island.
2013
Exhibition « Paysages et jardins » in the I.A.E. gardens, "Institut d'administration des Entreprises de Saint Denis", Reunion Island.
2012
Exhibition « Format libre » Galerie 109 Art Contemporain, Sainte Clotilde, Reunion Island.
2010
Co-winner of the F.E.R competition as part of the e-clip festival and Fête du Tourisme with the video clip «Xtreme Réunion, Run More Get More» Reunion Island.
2008
2008 – 2010  Workshops scénographie, publication
Mozambique South Africa study trip, Maputo art school exchange
Collaboration Painting Project Primary School Sacred Heart St Denis
CELIMENE St Denis competition. Villa of the Department
KIVI Magazine N°2, "Mové tan" Photographic Publication "Littoral" 
Scenography for the theater play "In romans", Company "Kèr Béton".